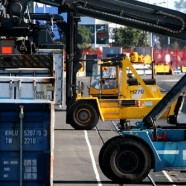 TransChlor Company provides freight forwarding  services by railroad in its own rolling stock and rolling stock of the customer. We have a direct contract with the Russian Railways Company (RZhD) which allows us to dispatch import and export cargoes as well as the cargoes in transit within Russia and CIS countries.
TransChlor Company has many of years experience working with different range of goods, including hazardous and liquid bulk cargoes transported in special equipment.
Our qualified staff will help you organize transportation and also will give you a professional advice on inssues that might emerge while working with railroad transportation, such as opening of a station to work with containers, obtaining permits and many others.